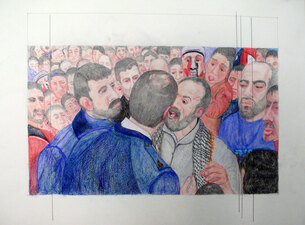 442
Source materials for this body of work include images of sports figures and dancers from contemporary companies. Therefore, there is a disconnect between what's real and imagined as the pictures are taken out of context. The artist explores the physical and emotional states of mankind when encountering forces beyond its control in these images depicting natural and man-made disasters.
---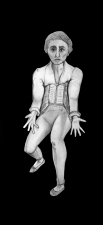 vestis
The source material for this series arises from photographs of Baryshnikov performing a ballet based on Auguste Vestris (1760 - 1842) a French dancer. Vestris was known for his mime techniques, his ability to switch from one character to another and his dance virtuosity. He was known as the "God of the dance". In these vignettes, we see man as he ascends and descends in life. These images are all graphite drawings collaged on archival paper.
---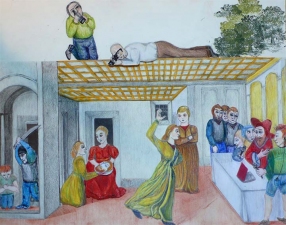 Italian Renaissance Redux
These drawings juxtapose the 21st century with the 14th. "Man's inhumanity to man" is manifested in these appropriated Gonzzoli Benozzo images and illuminated by the frenzy of modern day media.
---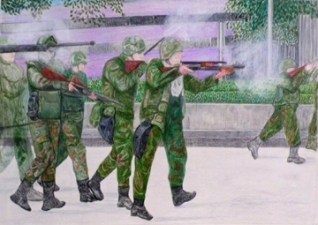 on the street where you live
This series is an investigation of contemporary issues as they relate to the erosion of man's freedoms throughout the world. Appropriating images from the web and newspapers, Colodny collages, draws, and manipulates materials to create these images. They are a numbered series as the events depicted could happen anywhere; they are universal.